As of 9/14/18, we are selling at farmers markets in Corvallis, Albany, Beaverton, Milwaukie, McMinnville, Salem, and Eugene. Current varieties include Tuscan, Ha Ogen, Canary, Double Dew, Papaya Dew, Galia, Ananas, Crane, Crenshaw, Minerva, Ambrosia, and several types of watermelon! Now that the rains have started, production is slowing down and we're heading toward the end, so you may want to get them while you still can!
------------------------------------------------
Red Hat Melons are famous up and down the Willamette Valley for their luscious flavor and texture and large variety of cultivars. Mike Hessel, owner and grower, has spent thirty years perfecting the growing of cantaloupe and watermelon in the mild oceanic climate of Corvallis, Oregon.
Wondering how to tell when a melon will be ready to eat? Get a few tips here, or ask Mike himself or his children and grandchildren at the Red Hat Melon stands at the Corvallis, Albany, Beaverton, Eugene, and Milwaukie farmers markets late July through early October. You can also find Red Hat Melons at Market of Choice in Corvallis and New Seasons in Portland. Follow Red Hat Melons on Instagram and Facebook for updates on current varieties available, and come to a farmers market to try samples and find out for yourself that these truly are the best melons in the region. (And we don't say that lightly. We hear it a lot.)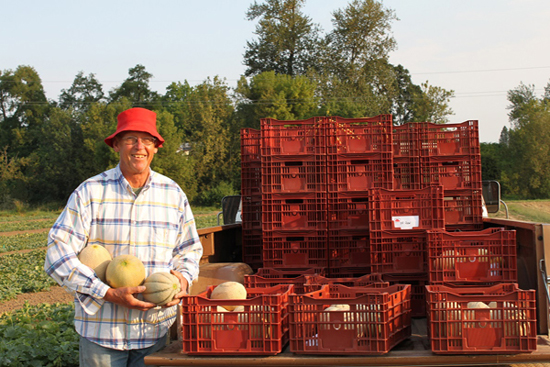 Contact: Mike Hessel 541-754-6606 31420 Peoria Rd., Shedd OR